This store requires javascript to be enabled for some features to work correctly.
Your comprehensive guide to outdoor cooking with 150 recipes to make the whole meal outdoors, including snacks, sides, breads, and desserts.
Go beyond burgers and basic proteins to become your best outdoor cooking self. Whether you use a gas or charcoal grill, flat-top griddle, open-fire setup, smoker, or pizza oven, you can revel in the outdoor cooking lifestyle. By learning to harness fire and smoke the ATK way, you'll even be able to convert many of these recipes between different cooking methods.
In-depth information covers fire setups and heat levels; reviews of outdoor cooking equipment including grills, griddles, planchas, rotisseries, pizza ovens, and smokers; and all the invaluable tips ATK has learned from more than 25 years of outdoor cooking experience.
Whether you need fast, creative weeknight dinners or you're gathering friends around the fire pit for Charred Guacamole and Grilled Peach Sangria or you're seeking a weekend adventure smoking a whole chicken or simmering open-fire paella for a crowd, you'll find recipes for every meal component:
Snacks and Small Plates: Smoked Loaded Nachos, Grilled Oysters with Soy-Citrus Sauce, Watermelon with Grilled Queso de Freir, Serrano, and Pepitas
Both Hands Needed: Grilled Smokehouse Barbecue Burgers, Smoked Salmon Tacos, Philly-Style Cheesesteaks
Weeknight Dinners: Stir-Fried Szechuan-Style Eggplant, Grilled Garam Masala Chicken, Tomatoes, and Naan
Weekend Gatherings: Kansas City–Style Barbecue Ribs, New England Clambake, Diner-Style Breakfast
Over an Open Fire: Fireside Chili, Chicken Souvlaki, Paella for a Crowd
Grilled Breads: Thin-Crust Grilled Pizza, Rosemary Focaccia, No-Knead Dutch Oven Bread
Desserts: Glazed Rotisserie Pineapple with Salted Rum Butterscotch Sauce, Cherry Spoon Cake
Julia and team work hard to find the best of the best in kitchen tools, cookware, bakeware and small appliances. We've done the research so you don't have to.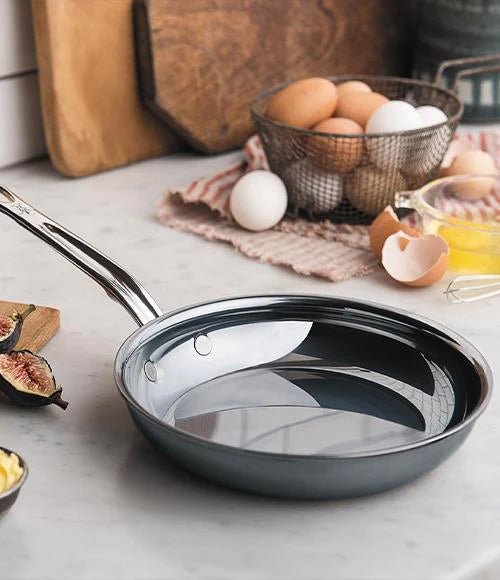 why Hestan nanobond?
click here to learn more about why Hestan NanoBond is unmatched in quality and performance