This store requires javascript to be enabled for some features to work correctly.
Nakiri knives, also known as Nakiri Bocho, is a Japanese-style knife used primarily for chopping all types of vegetables. A thin, flat, rectangular, straight blade edge and squared off tip are generally the distinguishing characteristics that set this knife apart from the others. The flat-edged blade makes contact with the cutting board at once ensuring your vegetables are cut all the way through. The Nakiri may take some time to get used to but brunoise-cutting vegetables and julienning will be where this knife shows you it's true potential.
The 6.5" Nakiri from Shun's Classic line is simple, beautiful and functional, making it the perfect line for beginners and professionals alike. High-performance VG-MAX Steel, which provides incredible edge retention, is clad with layers of Damascus stainless steel. It is then ground and bead-blasted to reveal the beautiful flowing pattern of the layered steel.
The Pakkawood used in the handle is saturated with resin to make it moisture resistant, strong and durable. The handle has a D-shape to mirror your palm, ensuring both a secure and comfortable grip.
With the specific materials chosen and at least 100 handcrafted steps to make each knife, the Shun Classic line has sharp blades, is easy to maintain and is corrosion resistant. This knife is sure to be a reliable workhorse in the kitchen if properly maintained.
Basic Knife Care:
*Not dishwasher safe. Wash and dry the blade by hand immediately after use. Use a soft sponge to wash the blade. Do not use abrasive dish scrubbers and powders as they can damage the blade.
Always use a wooden or plastic cutting board. Never cut on glass, marble, slate, a plate, china or anything harder than steel. Bamboo is not recommended as it is very hard and dulls knives quickly.
Store knives separate from each other in a way that they will not knock into each other.
Use a ceramic honing rod or leather strop for the edge maintenance. Never use a coarse steel sharpening rod or diamond rod. Do not use a wheel sharpener or sharpening tools. Always sharpen by hand on waterstones.
Knife Facts:
Knife Type: Nakiri
Rockwell Hardness: 60:62
Blade Length: 6.5"
Type of Steel: VG-MAX Steel
Handle Shape: D-Shaped handle
Handle Material: Ebony Pakkawood saturated with resin
Manufacturer: Kai Corporation
Made in: Seki, Japan
Julia and team work hard to find the best of the best in kitchen tools, cookware, bakeware and small appliances. We've done the research so you don't have to.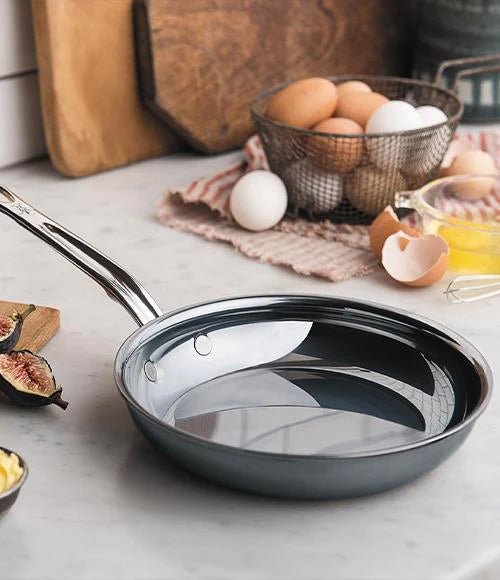 why Hestan nanobond?
click here to learn more about why Hestan NanoBond is unmatched in quality and performance