This store requires javascript to be enabled for some features to work correctly.
The Kotetsu Gyuto 240mm (9.5") knife by Shibata is the Japanese version of a Western-style chef's knife - a multipurpose knife with a slight meat cutting bias. The major difference between a Japanese multi-purpose knife and its European counterpart is a thinner blade.
Hard-forged from R2 Powdered Stainless Steel, this powdered steel is known for its strength, excellent wear resistance and its ability to take and retain a very sharp edge.
Translated, "Gyuto" means "cow sword" as Gyuto knives were originally designed for cutting larger pieces of beef. This knife, however, has a unique shape that is a cross between a gyuto and nakiri with the added benefit of the pointed square tip to score proteins and vegetables.
*Also available in 210mm.
Basic Knife Care:
*Not dishwasher safe. Wash and dry the blade by hand immediately after use. Use a soft sponge to wash the blade. Do not use abrasive dish scrubbers and powders as they can damage the blade.
Do not cut through bones and never use this knife to cut frozen food. This can chip the blade.
Never twist, cleave or prise the blade.
Always use a wooden or plastic cutting board. Never cut on glass, marble, slate, a plate, china or anything harder than steel. Bamboo is not recommended as it is very hard and dulls knives quickly.
Store knives separate from each other in a way that they will not knock into each other.
Use a ceramic honing rod or leather strop for the edge maintenance. Never use a coarse steel sharpening rod or diamond rod. Do not use a wheel sharpener or sharpening tools. Always sharpen by hand on waterstones.
Knife Facts:
Knife Shape: Gyuto
Rockwell Hardness: 62:63
Blade Length: 240mm (9.5")
Type of Steel: R2 Powdered Stainless Steel
R-2 Steel is manufactured by the Kobelco Steel Company. The same steel can be found in other knives but is called SG-2. They are the same alloys but the SG-2 brand is resold and rebranded by Takefu Specialty Steels.
Handle Shape: Octagon
Handle Material: Jarrah handle with pakkawood collar
Knife Maker: Takayuki Shibata
From Takayuki Shibata, the knife maker:
In my kitchen I was using a gyuto knife. It was a beautiful knife. But it was a little too curved for my liking. Didn't make enough contact with the food. So I switched to a straight-edged nakiri. Better for chopping vegetables. But when I was cutting meat, then I wanted to go back to my gyuto. Hmm, I thought. Somebody should make a new type of knife, one that falls between a gyuto and a nakiri. And then, as I am a knife maker, I thought that I should make it. So I did.
I gave it a slightly curved edge. Too-straight produces too much friction. Too-curved reduces contact with the food. This slight curve is my attempt at a happy medium.
I also gave it a sharp point. This is very nice for scoring vegetables, or squid, or chicken.
The spine of the knife has a very high mirror-polish. This maximizes friction between your fingers and the blade, for better control, comfort, and safety.
The sides of the knife have a rough finish, to minimize friction between the food and the blade. This is especially noticeable with foods that have a high water content. My knife's rough sides break up the water's surface tension, allowing the blade to slide through more easily.
Julia and team work hard to find the best of the best in kitchen tools, cookware, bakeware and small appliances. We've done the research so you don't have to.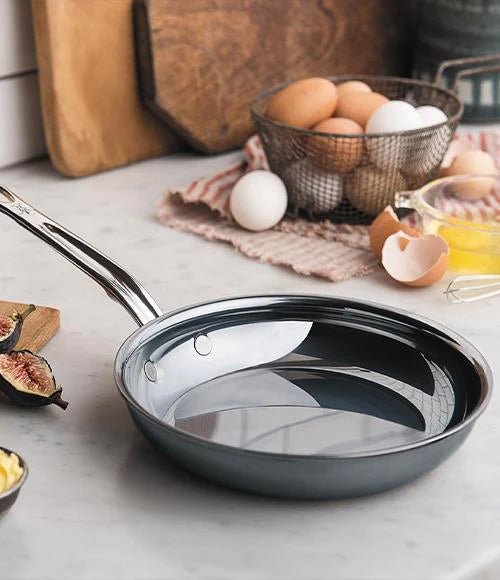 why Hestan nanobond?
click here to learn more about why Hestan NanoBond is unmatched in quality and performance