This store requires javascript to be enabled for some features to work correctly.
The cookbook that launched Yotam Ottolenghi as an international food celebrity.
A must-have collection of over 120 vegetarian recipes: A vegetarian cookbook from Yotam Ottolenghi, the author of Jerusalem, A Cookbook and other Ottolenghi cookbooks, Plenty is a visually stunning collection featuring exciting flavors and fresh combinations that will become mainstays for readers and eaters looking for a brilliant take on vegetables.
Essential for meat-eaters and vegetarians alike, Plenty features more than 120 recipes organized by ingredient.
One of the most exciting talents in the cooking world, Yotam Ottolenghi's food inspiration comes from his Cordon Bleu training, Mediterranean background, and his unapologetic love of ingredients. His approach to vegetable dishes is wholly original and innovative, based on freshness and seasonality, and drawn from the diverse food cultures represented in London.
If you are a fan of Plenty More, Forks Over Knives, Smitten Kitchen Every Day, or On Vegetables, you'll love this Ottolenghi cookbook, Plenty.
An indispensable cookbook for every home library with a spotlight on vegetarian restaurant-caliber recipes that every home cook can make.
Mouthwatering recipes include Jerusalem artichokes with manouri and basil oil, caramelized garlic tart, mushroom ragout with poached duck egg, zucchini and hazelnut salad, shakshuka, broccolini and sweet sesame salad, soba noodles with eggplant and mango, quinoa and grilled sourdough salad, chard cakes with sorrel sauce, asparagus mimosa, fava bean burgers, spiced red lentils with cucumber yogurt, farro and roasted pepper salad, sweet corn polenta, pear crostini, and more.
Julia and team work hard to find the best of the best in kitchen tools, cookware, bakeware and small appliances. We've done the research so you don't have to.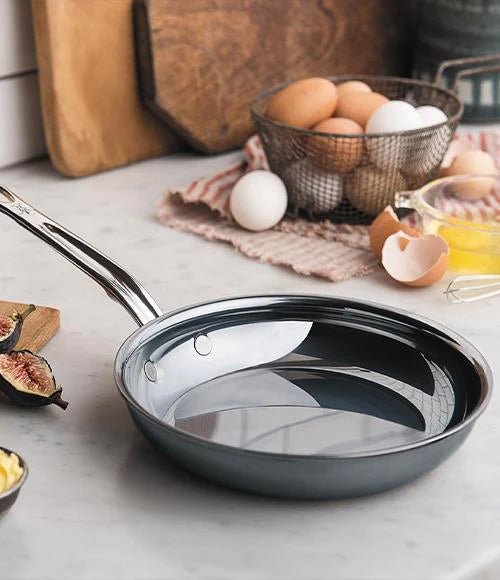 why Hestan nanobond?
click here to learn more about why Hestan NanoBond is unmatched in quality and performance