This store requires javascript to be enabled for some features to work correctly.
Naturally Sweet is a collection of 100+ truly groundbreaking recipes that rely only on natural, less-processed sweeteners like Sucanat (unrefined cane sugar), coconut sugar, date sugar, honey, maple syrup, or no sweeteners at all, just dried fruit and chocolate.
The alarming amount of processed sugar we consume every day has reached dangerous levels. According to the USDA's new guidelines, we should be consuming half as much sugar in order to thwart the current obesity crisis and numerous other public health issues. The test kitchen faced this challenge head-on, starting with the researching the science of sugar and alternative sweeteners and ending months later with the best low-sugar recipes you will ever taste. In side-by-side taste tests, people actually preferred the recipes made with less sugar since the alternative sweeteners had deeper, more nuanced flavors than granulated sugar.
An extensive introduction section summarizes everything we learned during our research. Before-and-after sugar comparisons appear on every recipe page, and full nutritional information is listed in the back of the book.
You won't miss the white sugar in these recipes:
Blueberry Muffins BEFORE 61 grams sugar -> AFTER 41 grams sugar Sucanat gave our muffins a rounded, molasses-y backbone. Since reducing the sugar content affected the structure, we used lower-protein cake flour to create a tender crumb. Browned butter and lemon zest boosted flavor.
Apple-Pear Pie BEFORE 50 grams sugar -> AFTER 34 grams sugar The flavor of a low-sugar pie made with apples alone fell flat, so we added pears to provide more nuanced flavor. We sweetened the filling with just ⅓ cup of Sucanat. The filling's balanced sweetness eliminated the need for the sugar in our traditional pie crust.
Honey-Lemon Squares BEFORE 16 grams sugar -> AFTER 9 grams sugar A small amount of honey incorporated beautifully into our velvety, mouthwateringly tart lemon curd. A simple press-in crust required just a teaspoon of honey.
Additional recipes include: Chocolate Layer Cake, Chocolate Chip Cookies, Strawberry-Chamomile Streusel Bars, Chai Oat Scones, Banana Bread, Holiday Cookies, Spiced Shortbread, Oatmeal-Raisin Cookies, Caramel-Nut Tart, and many more.
Julia and team work hard to find the best of the best in kitchen tools, cookware, bakeware and small appliances. We've done the research so you don't have to.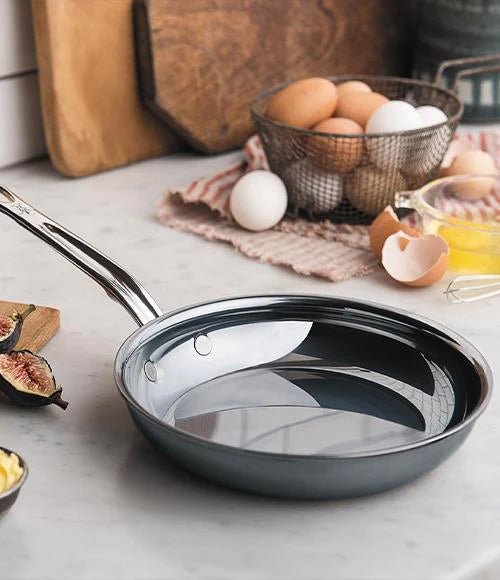 why Hestan nanobond?
click here to learn more about why Hestan NanoBond is unmatched in quality and performance