This store requires javascript to be enabled for some features to work correctly.
Honing rods, also known as honing steels, are designed to help realign the blade of your knife to make sure the blade is straight and sharp. Knives can sometimes feel as if they're dull but not all dull knives need sharpening.
The difference between honing and sharpening is that honing a blade does not remove material. Honing a knife simply realigns the steel back to it's upright position to regain a sharp edge whereas sharpening a blade removes steel to regain a sharp edge.
Honing can be done as often as you'd like. Some hone their knives before each use, others hone when they feel as though the sharpness of their knives are fading. If after proper honing the knife still feels dull, sharpening may be required.
This Miyabi 5000MCD Birchwood Tungsten Steel Honing Rod is a subtly eye-catching addition to any kitchen. Featuring a beautiful Karelian (Masur) Birch handle and a tungsten steel rod, this honing rod matches the rest of the Miyabi 5000MCD Birchwood collection.
Julia and team work hard to find the best of the best in kitchen tools, cookware, bakeware and small appliances. We've done the research so you don't have to.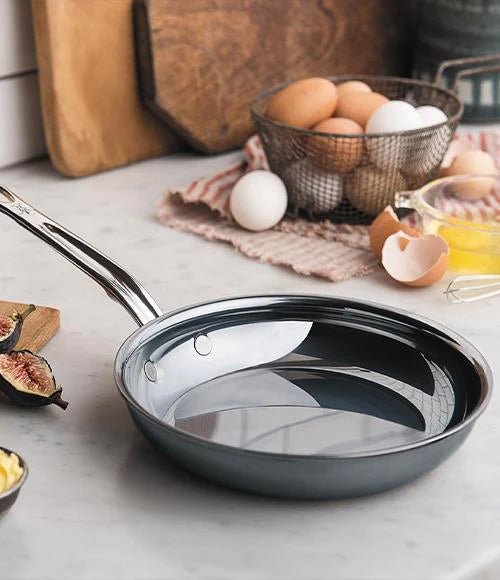 why Hestan nanobond?
click here to learn more about why Hestan NanoBond is unmatched in quality and performance