This store requires javascript to be enabled for some features to work correctly.
Nakiri knives, also known as Nakiri Bocho, is a Japanese-style knife used primarily for chopping all types of vegetables. A thin, flat, rectangular, straight blade edge and squared off tip are generally the distinguishing characteristics that set this knife apart from the others. The flat-edged blade makes contact with the cutting board at once ensuring your vegetables are cut all the way through. The Nakiri may take some time to get used to but brunoise-cutting vegetables and julienning will be where this knife shows you it's true potential.
The Miyabi 5000MCD Birchwood 6.5" Nakiri is a work of culinary art. Crafted with a Karelian (Masur) Birch handle and a blade with an SG2 micro-carbide powder steel core protected by 100 layers of steel, beauty and durability are combined for the ultimate kitchen tool. Each layer goes through a blade treatment which alters the surface structure, giving each blade its unique floral Damascus pattern.
A CRYODUR® blade is hardened using a specially developed process to give you the very best cutting performance along with the highest corrosion resistance and blade flexibility. To achieve this, an excellent quality of steel is used. First the steel is heated, then quenched momentarily to room temperature. Next, the blade is frozen and hardened at -196°C to improve corrosion resistance. Finally, the blade regains flexibility by being re-heated, also known as tempering.
Miyabi 5000MCD Birchwood knives have a scalpel-like sharpness straight out of the box because each blade is sharpened and polished by hand using a traditional Japanese honing process called Honbazuke honing. The blade is first coarsely ground using a vertically rotating sharpening stone, then it is finely honed using a horizontally rotating sharpening stone. To finish, the edge is polished using a leather stropping block.
Basic Knife Care:
*Not dishwasher safe. Wash and dry the blade by hand immediately after use. Use a soft sponge to wash the blade. Do not use abrasive dish scrubbers and powders as they can damage the blade.
Always use a wooden or plastic cutting board. Never cut on glass, marble, slate, a plate, china or anything harder than steel. Bamboo is not recommended as it is very hard and dulls knives quickly.
Store knives separate from each other in a way that they will not knock into each other.
Use a ceramic honing rod or leather strop for the edge maintenance. Never use a coarse steel sharpening rod or diamond rod. Do not use a wheel sharpener or sharpening tools. Always sharpen by hand on waterstones.
Knife Facts:
Knife Type: Nakiri
Rockwell Hardness: 62:63
Blade Length: 6.5"
Type of Steel: SG2 Powdered Stainless Steel
Handle Shape: D-Shaped handle
Handle Material: Karelian (Masur) Birch handle with welded bolster
Manufacturer: Miyabi Zwilling
Made in: Seki, Japan
Julia and team work hard to find the best of the best in kitchen tools, cookware, bakeware and small appliances. We've done the research so you don't have to.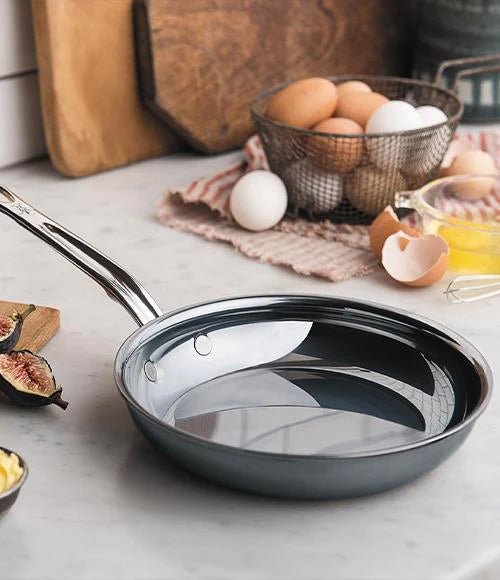 why Hestan nanobond?
click here to learn more about why Hestan NanoBond is unmatched in quality and performance