This store requires javascript to be enabled for some features to work correctly.
NEW YORK TIMES BEST SELLER • For sixty years, this has been the definitive cookbook on French cuisine for American readers. It deserves a place of honor in every kitchen.
"What a cookbook should be: packed with sumptuous recipes, detailed instructions, and precise line drawings. Some of the instructions look daunting, but as Child herself says in the introduction, 'If you can read, you can cook.'" —Entertainment Weekly

"I only wish that I had written it myself." —James Beard
Featuring 524 delicious recipes and over 100 instructive illustrations to guide readers every step of the way, Mastering the Art of French Cooking offers something for everyone, from seasoned experts to beginners who love good food and long to reproduce the savory delights of French cuisine.
Julia Child, Simone Beck, and Louisette Bertholle break down the classic foods of France into a logical sequence of themes and variations rather than presenting an endless and diffuse catalogue of dishes—from historic Gallic masterpieces to the seemingly artless perfection of a dish of spring-green peas. Throughout, the focus is on key recipes that form the backbone of French cookery and lend themselves to an infinite number of elaborations—bound to increase anyone's culinary repertoire.
"Julia has slowly but surely altered our way of thinking about food. She has taken the fear out of the term 'haute cuisine.' She has increased gastronomic awareness a thousandfold by stressing the importance of good foundation and technique, and she has elevated our consciousness to the refined pleasures of dining." —Thomas Keller, The French Laundry
Julia and team work hard to find the best of the best in kitchen tools, cookware, bakeware and small appliances. We've done the research so you don't have to.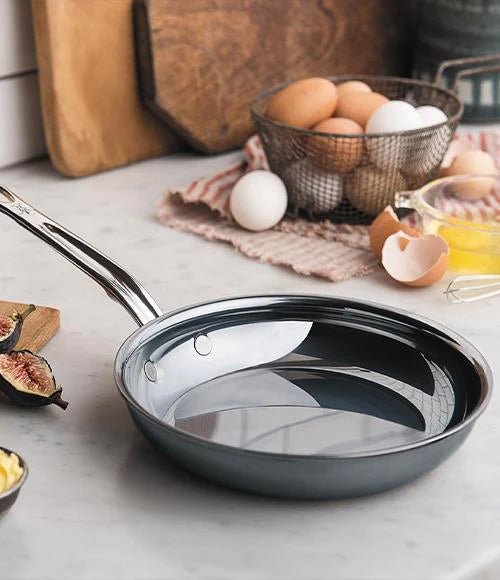 why Hestan nanobond?
click here to learn more about why Hestan NanoBond is unmatched in quality and performance