This store requires javascript to be enabled for some features to work correctly.
Steaming perfect milk is fun and rewarding but to get good takes patience, and a lot of cow juice.
If you're a barista, then this may be fine. But if you are a home drinker, you might want to cut out the effort and get straight to the delicious textured milky goodness. This can be especially difficult with a small amount of milk.
It's fortunate then that our lovely friends at Espro are way ahead of you, and operating at the cutting edge of milk steaming-assistance technology with the Toroid 2. Don't be alarmed, this is not a Dr. Who baddie, but a milk pitcher specifically designed to take all the work out of creating beautifully textured milk perfect for your drink of choice.
It works because of the specific shape of the pitcher: the air flow is directed in exactly the right path to texturize the milk. All you need to do is aim the steam wand into the centre of the milk and turn it on. Integrate the amount of air desired, and then sink the wand a little deeper into the milk: the pitcher does the rest!
This is the improved version (second generation), which has larger handles, and graduated markings so you can measure your milk and waste less.
One other important thing to mention is the build quality of this pitcher. It is the best quality pitcher we have come across. It's made of high quality 18/8 stainless steel and the handle is ergonomic and solid.
Ergonomic handle ensures balance and control
Perfect spout for pouring latte art
18/8 stainless steel
Works with one hole and multi-hole steam tips
1 year limited factory replacement warranty
Patent pending




Julia and team work hard to find the best of the best in kitchen tools, cookware, bakeware and small appliances. We've done the research so you don't have to.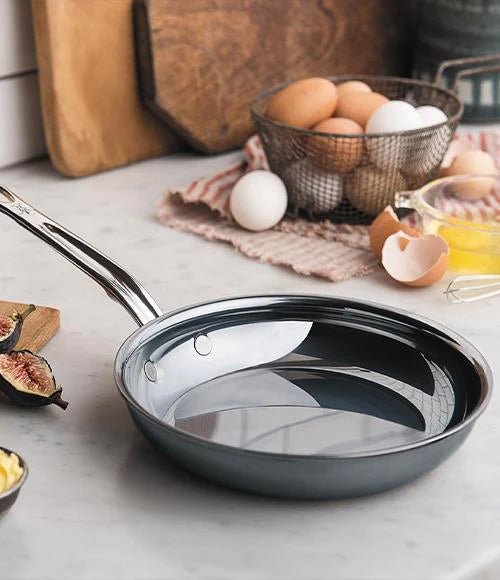 why Hestan nanobond?
click here to learn more about why Hestan NanoBond is unmatched in quality and performance