This store requires javascript to be enabled for some features to work correctly.
Made in Poland, these deeply engraved rolling pins give the unique and beautiful decoration to your cookies, pies, pastry and even crackers. Heirloom quality, and made of beech wood, these pins are made to last and be handed down to future generations.
Pins are hand-washable, or you can brush them with a stiff brush to remove any bits of dough that may get stuck. Keep the wood well-seasoned after washing by brushing it with a vegetable oil, olive oil or Clapham's Salad Bowl Finish before storing out of direct sunlight.
Tips on using your Embossed Rolling Pin:
Roll your dough with your favourite plain rolling pin, leaving your dough thicker than you want your finished cookie, pie crust or cracker to be
Lightly dust your dough with flour (or cocoa powder if using a chocolate dough), then firmly press and roll your embossed rolling pin across your dough once (rolling back and forth will result in a blurry pattern).
Cut out your cookies or crackers and place on a sheet pan and chill them in your freezer for approx 10 minutes (or your fridge for about 30 minutes) before baking. The chilling allows the dough to keep a more defined pattern in your finished bake good.
For pie dough, top your pie with the embossed dough, crimp and seal the edges as desired, and freeze for 10min or chill in fridge for 30min before baking.
If using on dough that puffs up quite a bit during baking, you will still want to dock the dough with a fork, skewer or toothpick.
Julia and team work hard to find the best of the best in kitchen tools, cookware, bakeware and small appliances. We've done the research so you don't have to.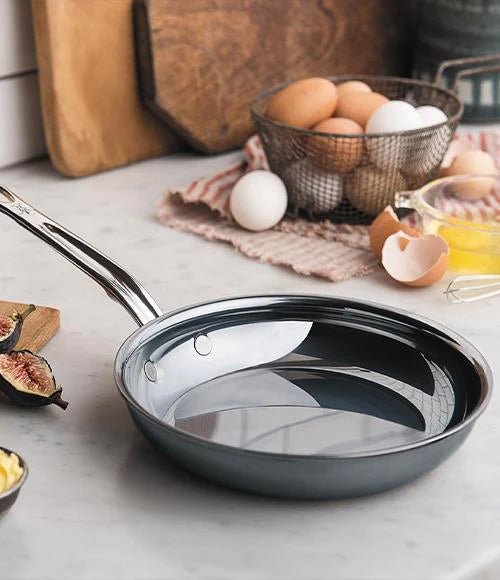 why Hestan nanobond?
click here to learn more about why Hestan NanoBond is unmatched in quality and performance