This store requires javascript to be enabled for some features to work correctly.
2017 International Association of Culinary Professionals Cookbook Award: Best Baking Cookbook.
America's Test Kitchen wants to put bread back in everyone's oven by demystifying the art and science of bread baking, showing bakers of all skill levels how to make crisp-crusted, chewy-crumbed loaves, rolls, sweet breads, and more.
Bread Illustrated—our first cookbook devoted solely to bread baking—is a fully illustrated handbook with more than 100 meticulously tested recipes that will enable you to bake artisan bakery–quality bread at home. Each recipe is a hands-on tutorial with a timeline and photos that break down the recipe step by step, because seeing the process from start to finish helps make any recipe more approachable.
Along the way, you'll discover a world of breads, each of which teaches valuable skills. Learn how to divide dough and form the knotted, rosette-shaped Kaiser Rolls. Incorporate butter and eggs into enriched breads like the towering holiday Panettone. For added assurance, troubleshooting sidebars accompany many of the breads, so you'll know how to avoid common pitfalls.
Recipes, which build from simple to more complex as you progress through the book, include: Southern-Style Skillet Cornbread, Honey-Wheat Dinner Rolls, Easy Sandwich Bread, Skillet Pizza Margherita, Monkey Bread, No-Knead Brioche, Deli Rye, Whole-Wheat Quinoa Bread, Spicy Olive Bread, Parker House Rolls, English Muffins, Caramelized Onion Bread, Middle Easter Za'atar Bread, Ultimate Cinnamon Buns, Yeasted Donuts, Scali Bread, Sourdough, Seeded Ficelle, Pain de Campagne, and Kugelhoph.
Softcover
Number of pages: 422
Dimensions: 10" H x 8.5" W x 1" T
Weight: 2.7lbs
Julia and team work hard to find the best of the best in kitchen tools, cookware, bakeware and small appliances. We've done the research so you don't have to.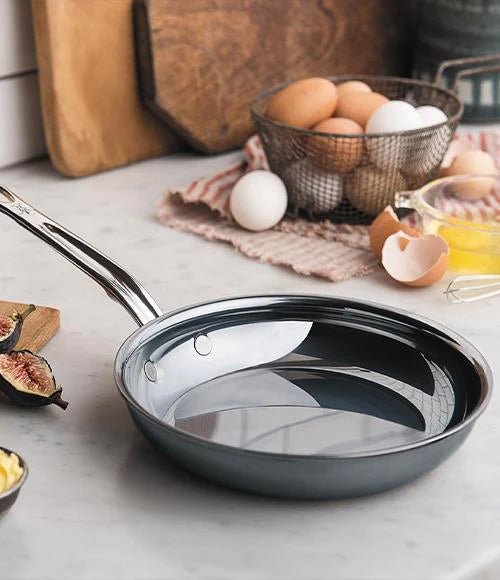 why Hestan nanobond?
click here to learn more about why Hestan NanoBond is unmatched in quality and performance