This store requires javascript to be enabled for some features to work correctly.
The easy way to bake bread at home—all you need is FLOUR, WATER and SALT to get started!

Begin your sourdough journey with the bestselling beginner's book on sourdough baking—100,000 copies sold! Many bakers speak of their sourdough starter as if it has a magical life of its own, so it can be intimidating to those new to the sourdough world; fortunately with Artisan Sourdough Made Simple, Emilie Raffa removes the fear and proves that baking with sourdough is easy, and can fit into even a working parent's schedule! Any new baker is inevitably hit with question after question. Emilie has the answers. As a professionally trained chef and avid home baker, she uses her experience to guide readers through the science and art of sourdough.

With step-by-step master recipe guides, readers learn how to create and care for their own starters, plus they get more than 60 unique recipes to bake a variety of breads that suit their every need. Featured recipes include:
- Roasted Garlic and Rosemary Bread
- Cinnamon Raisin Swirl
- Blistered Asiago Rolls with Sweet Apples and Rosemary
- Multigrain Sandwich Bread
- No-Knead Tomato Basil Focaccia
- Raspberry Gingersnap Twist
- Sunday Morning Bagels
- and so many more!

With the continuing popularity of the whole foods movement, home cooks are returning to the ancient practice of bread baking, and sourdough is rising to the forefront. Through fermentation, sourdough bread is easier on digestion—often enough for people who are sensitive to gluten—and healthier.

Artisan Sourdough Made Simple gives everyone the knowledge and confidence to join the fun, from their first rustic loaf to beyond.

This book has 65 recipes and 65 full-page photographs.
Julia and team work hard to find the best of the best in kitchen tools, cookware, bakeware and small appliances. We've done the research so you don't have to.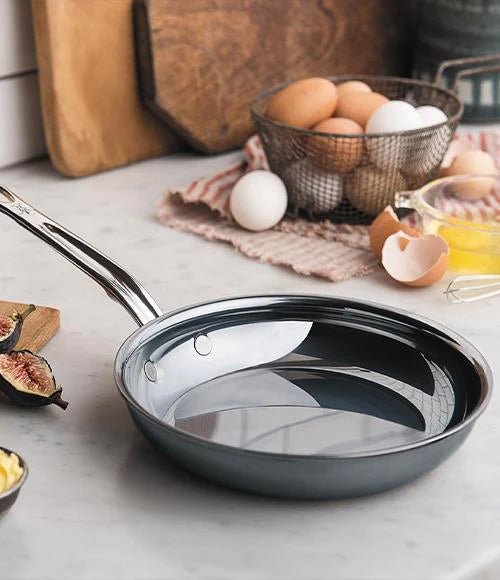 why Hestan nanobond?
click here to learn more about why Hestan NanoBond is unmatched in quality and performance