This store requires javascript to be enabled for some features to work correctly.
NAMED ONE OF THE FIVE BEST GLUTEN-FREE COOKBOOKS OF ALL TIME BY MINDBODYGREEN
When people adopt a new diet for health or personal reasons, they worry most about the parties, holidays, and events with strong food traditions, fearing their fond memories will be lost along with the newly eliminated food groups. After suffering for years with a debilitating autoimmune disease and missing many of these special occasions herself, Danielle Walker has revived the joy that cooking for holidays can bring in Danielle Walker's Against All Grain Celebrations, a collection of recipes and menus for twelve special occasions throughout the year.
Featuring a variety of birthday cakes, finger foods to serve at a baby or bridal shower, and re-creations of backyard barbecue standards like peach cobbler and corn bread, Danielle includes all of the classics. There's a full Thanksgiving spread—complete with turkey and stuffing, creamy green bean casserole, and pies—and menus for Christmas dinner; a New Year's Eve cocktail party and Easter brunch are covered, along with suggestions for beverages and cocktails and the all-important desserts. Recipes can be mixed and matched among the various occasions, and many of the dishes are simple enough for everyday cooking. Stunning full-color photographs of every dish make browsing the pages as delightful as cooking the recipes, and beautiful party images provide approachable and creative entertaining ideas.
Making recipes using unfamiliar ingredients can cause anxiety, and while trying a new menu on a regular weeknight leaves some room for error, the meal simply cannot fail when you have a table full of guests celebrating a special occasion. Danielle has transformed her most cherished family traditions into trustworthy recipes you can feel confident serving, whether you're hosting a special guest with food allergies, or cooking for a crowd of regular grain-eaters.
Hardcover
Number of pages: 352
Dimensions: 10.1" H x 8.2" W x 1.1" T
Weight: 3 lbs
Julia and team work hard to find the best of the best in kitchen tools, cookware, bakeware and small appliances. We've done the research so you don't have to.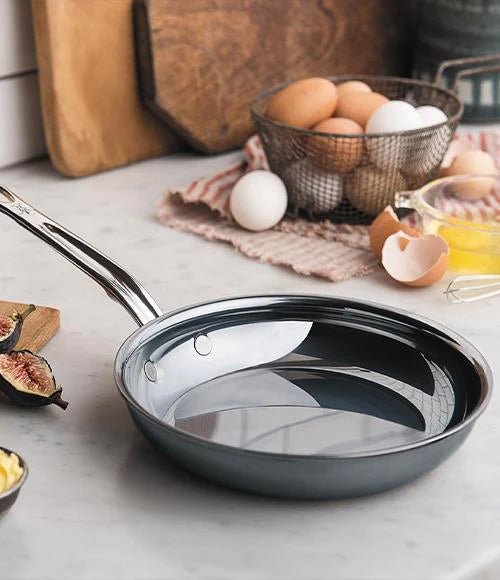 why Hestan nanobond?
click here to learn more about why Hestan NanoBond is unmatched in quality and performance