This store requires javascript to be enabled for some features to work correctly.
With one simple, mostly hands-off technique, you'll unlock deep flavors in meat, poultry, seafood, and even vegetables in this authoritative guide of 200 foolproof, unique recipes.
Braises are far from just stews! The treasured technique of cooking food slowly and gently in liquid is a pillar of cuisines around the world, and
How to Braise Everything
is a modern master class. You'll learn that a pot roast cooks much in the same way as a warm-spiced Moroccan lamb tagine, savory Spanish stewed chickpeas, or even a pot full of hearty bacon-enhanced collard greens. The elemental method is simple: Combine your main ingredient with a flavorful liquid, cook (usually) at a low temperature, and you're left with superbly tender meat or vegetables and a flavorful sauce or broth, both parts benefitting from an exchange of flavors. But this simplicity doesn't mean there's not a right and a wrong way to braise. When should you sear your meat before its bath? Should you presoak your beans? What's better for braising: the oven or the stove? You'll discover tricks to coax out as much flavor as possible from braised subjects in streamlined recipes. We cover comforting favorites like Old-Fashioned Pot Roast and classics like Chicken Cacciatore while also bringing the technique up to date, exploring international dishes with vibrant flavors like Mexican Chicken with Pumpkin Seed Sauce and Hake in Saffron Broth with Chorizo and Potatoes. Verdant vegetable sides like Braised Spring Vegetables with Tarragon and hearty bean dishes like Curried Lentils with Golden Raisins complete the meal.
Julia and team work hard to find the best of the best in kitchen tools, cookware, bakeware and small appliances. We've done the research so you don't have to.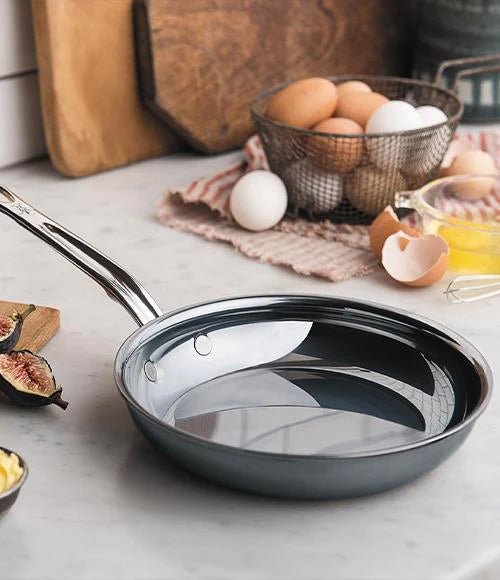 why Hestan nanobond?
click here to learn more about why Hestan NanoBond is unmatched in quality and performance