This store requires javascript to be enabled for some features to work correctly.
Staub's special Braise and Grill Pan is heavyweight and built to last. This cast iron Braise and Grill Pan is unique because it's like purchasing two versatile pieces of cookware in one. With the Braise and Grill Pan, you get a 7-Qt capacity cocotte as well as a ridged grill pan that doubles as a lid for the cocotte. The cocotte is perfect for braising, roasting and slow cooking while the grill pan's high ridges are great for searing and separating drippings while leaving picture-perfect grill marks.
Cast iron may be slow to heat up but retains heat for an extended period of time, diffuses it slowly and distributes it evenly. Featuring a smooth enamel coated base, surface scratches are prevented so these dishes are safe to use on any surface. Staub's signature black matte enamel interior is easy to clean and does not require seasoning like traditional raw cast iron. The high-quality enamel used in Staub offers improved resistance to thermal shocks and scratching.
For best results:

- Heat slowly and use on low to medium heat.
- If using high heat, bring up to temperature gradually.

- Allow cookware to cool before washing.
- Completely dry before storing.

Induction, gas, electric, ceramic, halogen, oven and broiler compatible up to 500ºF/260°C.

Dishwasher safe.

Dimensions:
- Cocotte without lid and handles: 11.25" diameter, 4.5" high / 28.5cm diameter, 11.5cm high.
- Grill Pan without handles: 10.75" diameter, 1" high / 27.5cm diameter, 2.5cm high.
Made in France.

Staub Limited Lifetime Warranty.
Julia and team work hard to find the best of the best in kitchen tools, cookware, bakeware and small appliances. We've done the research so you don't have to.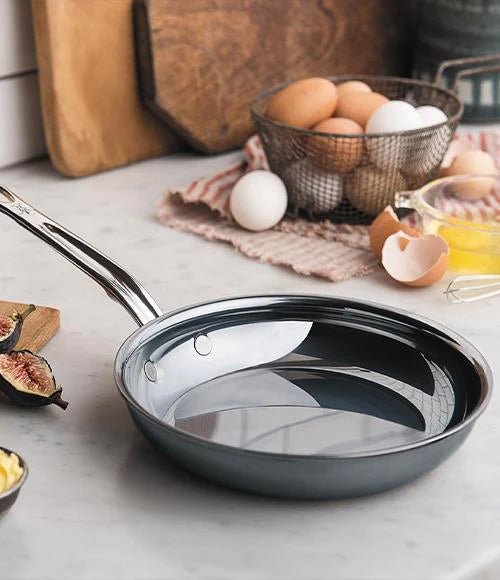 why Hestan nanobond?
click here to learn more about why Hestan NanoBond is unmatched in quality and performance