This store requires javascript to be enabled for some features to work correctly.
For groundbreaking innovations in cookware, equip the kitchen with Hestan NanoBond Molecular Titanium Stainless Steel Skillet. This high-performance two-piece skillet set is designed to heat quickly and thoroughly for better browning and searing. Hestan's innovative cookware technology, Molecular Titanium, bonds thousands of titanium nano-layers to the 18/10 stainless steel construction, creating brilliantly resilient cooking surfaces that are 4X harder than typical stainless steel, making the pans resistant to scratching, staining, and salt pitting.
These 100% nonreactive 8.5-inch and 11-inch skillets fitted with ergonomic handles for a comfortable grip when cooking and serving culinary creations. The entree and sides duo also provide 20% more surface area than traditional skillets in their size class for crafting large meals without worry. High heat and oven safe to a scorching 1050°F, this Italian handcrafted skillet set offers a lifetime durability for culinary perfection.
METAL UTENSIL SAFE - Molecular Titanium bonds thousands of titanium nano-layers to stainless steel, creating a 100% metal utensil safe cooking surface 4X harder than typical stainless steel that is resistant to scratching, staining, and salt pitting
PROCORE CLAD - Skillets are crafted from triple bonded stainless steel with exclusive ProCore aluminum delivers 35% greater heat conductivity than other aluminum-clad cookware for quick and even heating
FLUSH RIVETS - Ergonomic handles have been fitted to the skillets with flush rivets for easy cleaning and stacking/nesting capability
SKILLET SET INCLUDES - 8.5-inch skillet and 11-inch skillet for quickly crafting entrees and sides at the same time
SEALED RIMS - Encased with stainless steel to prevent dangerous wear and tear, skillet rims are 100% dishwasher safe, with no sharp edges ever.
HIGH HEAT TOLERANT - Induction compatible skillets are oven safe, broiler safe, grill safe, and heat safe to a scorching 1050°F
MADE IN ITALY - Hestan cookware has been handcrafted by skilled Italian artisans
100% toxin-free
100% dishwasher-safe
Oven and grill safe to 1050°F
Ergonomic handle for extra comfort
Superior pan geometry
Lifetime Warranty
Handcrafted in Italy
14 global patents
Optimized for induction
Specifications:
8.5-inch
Length: 14.75 in
Diameter: 8.5 in
Height: 1.5 in
Weight: 1.81 lb
11-inch
Length: 18.75 in
Diameter: 11 in
Height: 1.75 in
Weight: 2.86 lb
Julia and team work hard to find the best of the best in kitchen tools, cookware, bakeware and small appliances. We've done the research so you don't have to.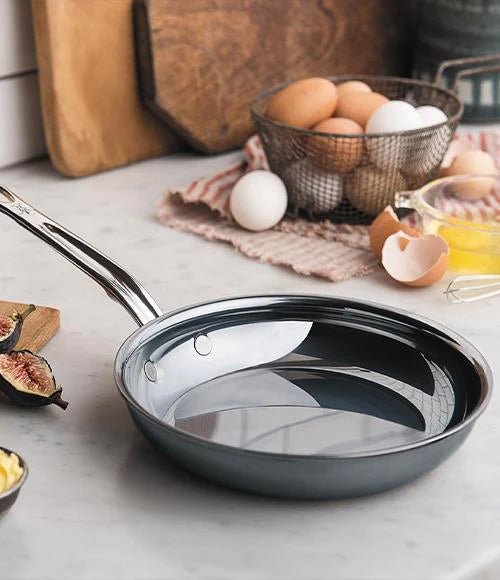 why Hestan nanobond?
click here to learn more about why Hestan NanoBond is unmatched in quality and performance