This store requires javascript to be enabled for some features to work correctly.
Easy to handle, stable and sturdy, healthy and durable — our new Mixing Bowls were designed to better your experience and ensure you get great results!
Had you ever seen a horizontal handle on a bowl? We had not. And to this day, we still wonder why. Of course, it gives the bowl an innovative look; but more importantly it allows even small hands to have a strong grip and to hold the bowl firmly and safely while mixing.
Plus, lifting or tilting it with one hand is a breeze, even when the bowl is full! A true gift when pouring. And to that, add a wide spout able to channel the mixture neatly, thick or thin.
Now, if you like clever utensils, remember that ceramic is a great material to diffuse heat gently and evenly. That is why our Mixing Bowl is ideal for the 'bain-marie' technique. And it does not shy away from the microwave, so that you may warm up or melt ingredients quickly.
With just the right weight, it stays stable when mixing, and the slant at the base allows to keep it tilted to whisk more easily.
Ceramic is also a healthy, durable material which doesn't oxidize the contents nor release toxic substance. And it's resistant enough for use with an electric whisks, easy to wash and dishwasher safe. Simply the good mix!
Oven/Freezer/Dishwasher/Microwave
10 year warranty
Julia and team work hard to find the best of the best in kitchen tools, cookware, bakeware and small appliances. We've done the research so you don't have to.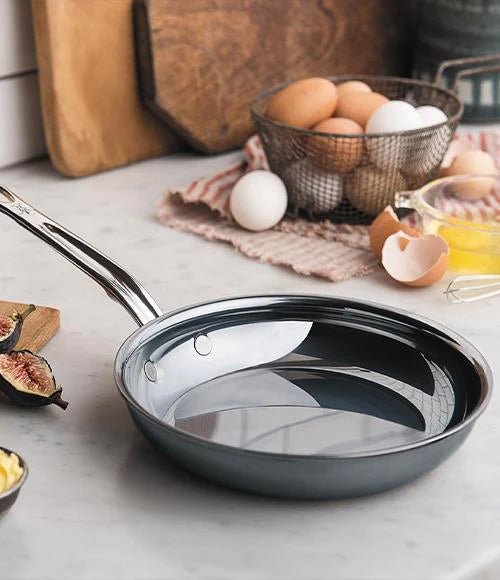 why Hestan nanobond?
click here to learn more about why Hestan NanoBond is unmatched in quality and performance